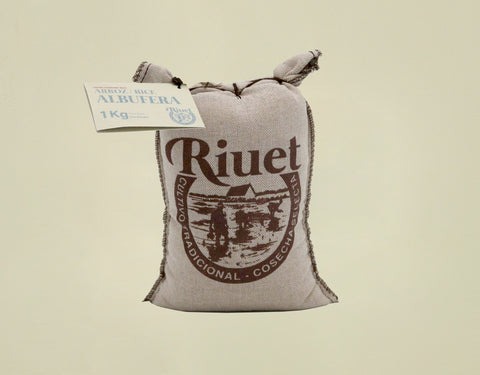 Albufera Rice
Albufera rice is born from a natural selection of the Bomba, Sénia and Bahía varieties. Its round and pearl grain has a great absorption capacity, while offering great resistance to overcooking. This variety is grown exclusively in the Albufera de València Natural Park and is recommended for all kinds of Spanish dishes, especially paellas. Its approximate cooking time is 18 minutes and it is recommended with recipes where there may be an overhydration of the ingredients, such as vegetables or seafood.

In Riuet rice they are farmers and they cultivate their varieties of rice in La Albufera de Valencia for generations with great care. Its fields are its greatest pride, sowing in traditional and organic cultivation for some varieties.

They work with the Arrós de Valencia Denomination of Origin, always with the highest varietal purity and only in the Extra Category.

We only offer rice with Designation of Origin "Arroz de Valencia" which, in addition to certifying the quality and origin of the rice, only the best farmers and mills manage to pass their strict quality controls.

-Use of certified seeds (the only way to guarantee the intrinsic characteristics of each variety).

-Traceability: which makes it possible to know the exact field where each package of rice originated.

– Sanitary state of the field: to ensure the absence of defective grains of other species.

– Varietal purity: main quality attribute of differentiated rice.

– Correct elaboration: which guarantees a homogeneous cooking of the grain.
NUTRITIONAL TABLE: Aspect 100g.
Energy 384 Kcal/1478Kj
Protein 6.5g
Carbohydrates 78.2 g
Sugars 0.2 g
Fat 0.8g
-Of which saturated, 0.2 g
Salt 0g