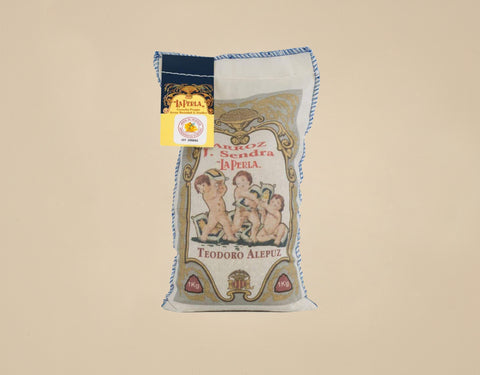 Rice J.Sendra
The J. Sendra variety is an emblematic round-grain rice grown in the Albufera de València Natural Park. Cataloged as "Sénia type", its composition guarantees the creamy texture of the grain after cooking and the complete absorption of flavors.

It is a delicate and tasty rice, so it is recommended not to cook for more than 18 minutes to obtain a perfect finish and enjoy this variety in all its splendor. Its fragility reserves it for master recipes in which everything is under control, as in our case, recommended for Paella Valenciana and other recipes with heterogeneous flavor nuances.

A story of affection and passion for rice that Arroz la Perla has, originally led them to recover the Senia seed and be the only producers of said rice. Always under the protection of DO Arrós de Valéncia, a historic mill producing this jewel of Valencian rice.

We only offer rice with Designation of Origin "Arroz de Valencia" which, in addition to certifying the quality and origin of the rice, only the best farmers and mills manage to pass their strict quality controls.

-Use of certified seeds (the only way to guarantee the intrinsic characteristics of each variety).

-Traceability: which makes it possible to know the exact field where each package of rice originated.

– Sanitary state of the field: to ensure the absence of defective grains of other species.

– Varietal purity: main quality attribute of differentiated rice.

– Correct elaboration: which guarantees a homogeneous cooking of the grain.
Customize your order as much as possible
NUTRITIONAL TABLE: Aspect 100g.
Energy 360 Kcal/1505Kj
protein 7g
Carbohydrates 79.7 g
Sugars 0.1 g
Fat 0.8g
-Of which saturated, 0.1 g
Fiber 2.4g
Sodium 0.003g
Buen arroz
Lo compro hace años y nunca defrauda la calidad de la marca la Perla
Excelente servicio y calidad de sus productos
El Paeller, ofrece un servicio serio y profesional, mi pedido se retrasó por cuestiones logísticas de entrega por causa de la agencia de transporte y desde la secretaría de El Paeller hicieron un seguimiento riguroso y solucionaron la entrega de forma rápida y eficiente, Además los productos llegan perfectamente embalados en cajas y el arroz es un producto de excelente calidad. Sin duda recomendamos El Paeller por su seriedad, calidad y servicio.