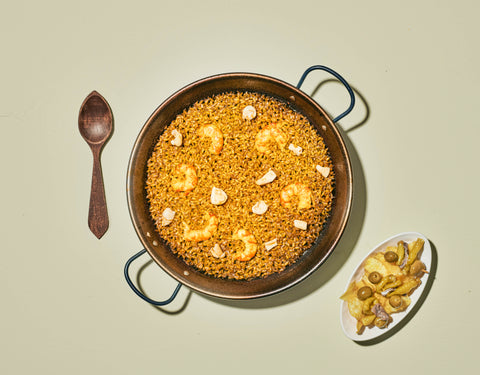 Senyoret rice
2/3 Portions The seafood paella par excellence. With an elaborate seafood broth of prawns, galleys and crabs, it also includes pieces of cuttlefish and peeled prawns. The firewood becomes one more ingredient that provides an extraordinary flavor to the rice. Each pack contains the seafood and the broth of a Senyoret Rice for 2/3 people. The elaboration is authentically handmade and with natural ingredients. Cooking is interrupted and the broth is bottled at the right time, maintaining all its nutritional properties and all its flavour.
Customize your order as much as possible
INGREDIENTS: 100% Natural and gluten-free:
| | |
| --- | --- |
| Seafood broth | water, crabs, galleys, prawns, extra virgin olive oil, natural tomato, salt, paprika and garlic |
| Sepia | |
| Prawn | |
All the ingredients are Spanish and from km 0, mainly from the Valencian Community.
NUTRITIONAL TABLE
| | |
| --- | --- |
| Aspect 100g | |
| Energy | 33 Kcal/139 Kj |
| carbohydrates | <1.0 g -Of which, sugars <0.5 g |
| fats | 2.4 g -Of which saturated fatty acids 0.39 g |
| Protein | 2.8g |
| Salt | 0.801g |
Súper recomendable
Arroz muy rico y fácil de preparar,
Se nota que los productos son naturales y sin aditivos.
Un acierto para no fallar
Bastante bien
Creo que le faltaría alguna gamba, mejillón, le falta algo la verdad. De gusto bastante bien.
No merece la pena, mala compra.
Mucho caldo, insípido y mal medido con respecto al arroz que entregan. Después de leer las críticas compramos dos variedades, muy decepcionados. Para no repetir.
Caldos maravillosos
Tanto sus arroces como sus caldos son exquisitos, merece la pena tenerlos a mano para preparar un buen arroz