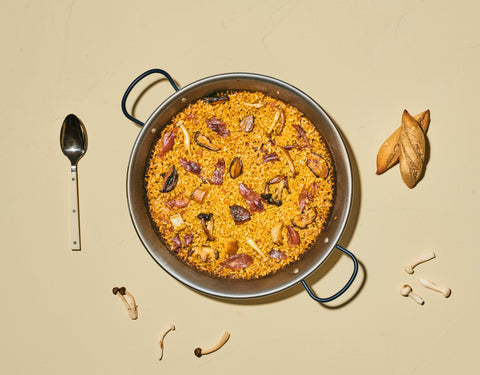 Duck and Mushroom Paella
2/3 Servings Field paella with an intense and balanced flavour, which can be enjoyed with dry or sweet rice (bound grain and creamier and smoother texture). Each pack contains meat, mushrooms, rice and broth for a Duck and Mushroom Paella for 2/3 people. The elaboration is authentically handmade and with natural ingredients. Cooking over wood is interrupted and the broth is bottled at the right time, maintaining all its nutritional properties and all its flavour.
Customize your order as much as possible
INGREDIENTS:
| | |
| --- | --- |
| Duck and free-range chicken broth | water, extra virgin olive oil, salt, garlic, tomato, paprika, infused rosemary, free-range chicken bones and duck bones |
| boneless duck and mushrooms | mushroom, oyster mushroom, trumpets of death, boletus edulis, shitake, chanterelle and senderuela |
All the ingredients are Spanish and from km 0, mainly from the Valencian Community.
NUTRITIONAL INFORMATION: Aspect 100g.
| | |
| --- | --- |
| Aspect 100g | |
| Energy | 69 Kcal/286 Kj |
| carbohydrates | <1.6 g -Of which, sugars <0.5 g |
| fats | 5.6 g -Of which saturated fatty acids 1.56 g |
| Protein | 3.5g |
| Salt | 0.785g |
Sabor Exquisito
Cuando las cosas se hacen bien se nota.
Increíble arroz de pato y setas, siguiendo las instrucciones te queda una paella que no te comes en muchos restaurantes.
De las mejores
Todos los arroces están buenos pero el de pato y setas puede ser el mejor, no importa si te sale más seco o menos de las dos formas es increíble
Bien con algún pero
Mi experiencia fue la siguiente: Preparé paella de arroz de pato y setas de manera que quedase meloso. Cantidad de arroz que viene, para 2 raciones muy generosas ó para 3 raciones normales. La cantidad de caldo perfecta y el sofrito bien tirando a generoso. ¿El pero? pues de sabor me pareció bastante concentrado (no rectifiqué de sal) o fuerte (no es que coma arroz con pato y setas a diario para tener una referencia exacta pero fue impresión consensuada). Conclusión: creo que le daré otra oportunidad pero diluyendo el caldo y haciendo paella para 6, ya que la idea de tener para hacer una paella de improvisto no está nada mal.
Esperando que mi familia venga de vacaciones.
No sé cómo estará ésta paella, pero me apuesto lo que sea que estará buenisina. Cómo todas.