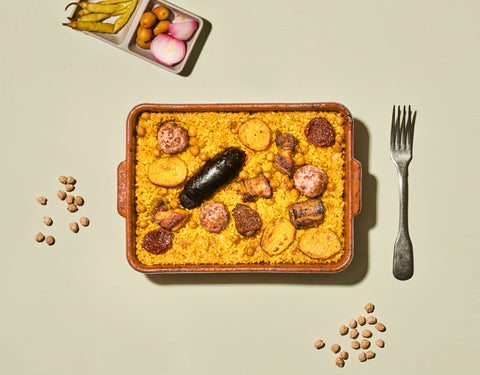 Baked rice
2 Servings of rice baked in a wood oven. With an elaborate meat broth, it includes the traditional ingredients of this popular Valencian dish: potato, pork rib, chickpeas, tomato, blood sausage. The firewood becomes one more ingredient that provides an extraordinary flavor to the rice. So good, you're going to have to explain.

Each pack contains the meat, broth, vegetables and rice for a Baked Rice for 2 people. The elaboration is authentically handmade and with natural ingredients. Cooking is interrupted and the broth is bottled at the right time, maintaining all its nutritional properties and all its flavour.
Customize your order as much as possible
2 Raciones de arroz al horno a leña. Con un elaborado caldo de carne, incluye los ingredientes tradicionales de este popular plato valenciano: patata, costilla de cerdo, garbanzos, tomate, morcilla. La leña se convierte en un ingrediente más que aporta un sabor extraordinario al arroz. Tan bueno, que vas a tener que dar explicaciones.

Cada pack contiene la carne, el caldo, los vegetales y el arroz de un Arroz al horno para 2 personas. La elaboración es auténticamente artesanal y con ingredientes naturales. El cocinado se interrumpe y se envasa el caldo en el momento idóneo, manteniendo todas sus propiedades nutricionales y todo el sabor.
INGREDIENTES: 100% Naturales y sin gluten:
Agua, costillas de cerdo, morcilla, (cebolla, cerdo (tocino) sangfre de cerdo, sal, anís granulado, pimienta negra, clavo) patata, garbanzos, albóndgias (cerdo, ternea, PAN, agua, HUEVO, piñones, perejil, pimienta blanca, canela, nuez moscada) tomate, tomate seco, sal, ajo seco, pimentón.
TABLA NUTRICIONAL



| | |
| --- | --- |
| Aspecto 100g | |
| Energía | 96 Kcal/396 Kj |
| Hidratos de carbono | 2,1 g - De los cuales, azucares 0,8g |
| Grasas | 7,1 g -De los cuales saturadas 5,2 g |
| Proteína | 5,2 g |
| Sal | 1,2 g |









Arroz horno
Hecho en la paella el resultado ha sido espléndido
Poco sabor
No se si es porque estoy acostumbrado a los que hacemos en casa con el caldo del cocido, o porque tiene poco sabor en si, lo notamos muy suave