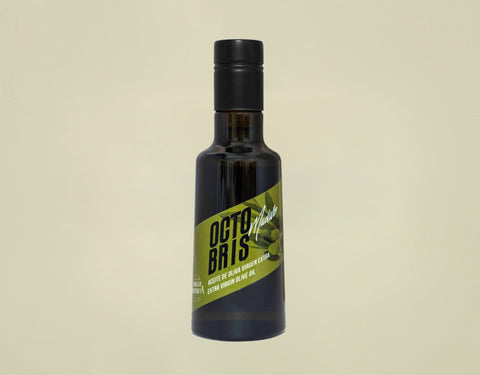 Virgin Olive Oil (EVOO)
Octobris Maduro Premium is an EVOO obtained directly from centuries-old olive groves in La Canyada (Alicante), the fruit of ripe olives harvested at the end of November and beginning of December. It is ideal for frying, stewing and dressing any dish to enhance its flavor.

Octobris Maduro Premium is for those who like oil with personality. It is aromatic, sweet and has a lot of body. With flavor and aromas of artichoke, almond, tomato and ripe fruit (banana and apple). It is ideal for use raw and in the kitchen.
Customize your order as much as possible
NUTRITIONAL TABLE: Aspect 100g.
Energy 895 Kcal / 1296Kj
Protein 11.4g
Carbohydrates 0 g
Fat 99.3g
-Of which, saturated, 14.90 g
-Of which, monounsaturated 78.05 g
-Of which, polyunsaturated 6.35 g