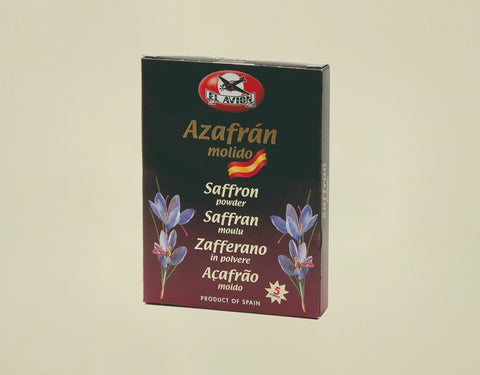 Saffron
The natural coloring par excellence of paellas in particular and Spanish cuisine in general. It provides a unique aroma and flavor, as well as a characteristic yellow color without the need to use artificial and unhealthy colors.

Packaged in 5 hermetic envelopes that preserve the content of the light and preserve all its qualities. Each envelope is enough for 5 servings, you just have to season the dish and stir well so that it mixes completely.
Customize your order as much as possible
NUTRITIONAL TABLE: Aspect 100g.
Energy 310 Kcal / 1296Kj
Protein 11.4g
Carbohydrates 65.4 g
Fat 99.3g
-Of which, saturated, 1.586 g
-Of which, monounsaturated 0.429 g
Fiber 3.9g
Sodium 0.148g
Potassium 1,724 g
Phosphorus 0.252 g
Calcium 0.111g
Iron 0.111g